QR codes have made it easy to share content throughout the smart phone world. With a quick scan you can view websites, text, coupons, and much more. Searching on the Apple App Store, I've found that there are
many
QR code readers that you get, but the reader by
Tap Media
is my favorite.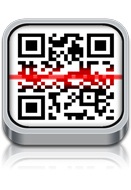 It is called
QR Reader
(a very unique name right?). Out of all the readers I tested, this one allows the most customization and ease of scanning.
Most other readers only let you create codes that scan to web url's. QR Reader's options are many.
I think anyone looking for a good app to scan QR codes should get this. It is simple, easy and has lots of features.
Download it from the App Store!